Instructor: Testimonials

Siegel Racing Driver Instruction Clinic at Talladega Gran Prix (STi)



Siegel Racing Driver Instruction Clinic at Talladega Gran Prix (WRX)



EVO 8 at Beaverun



STi at Road Atlanta
Super Siegel... SRDEC FTW
Thank you Scott Siegel for one of the most fun days I have experienced in 36 yrs, what a blast, it was hot as fawk, but worth every single minute and penny.
I had planned to just pay the minimum but quickly coughed up the rest to get the full suite that Siegel Racing Driver Education Clinic had to offer. Boy I sure am glad...because without his instruction I would have probably done some damage.
Example: I went off just before the U turn had a few more laps went in for some schooling by the Siegel, on the next outing due to the knowledge learned (in previous class session) I saved that exact situation from happening at least on 4 other occasions. What a professor he truly is...If you have ever wanted, thought about, or plan to go to the track I highly suggest taking his SRDEC. It helped me greatly and I will probably not sleep for days thinking about my next session!
Lessons learned - Get some good pads and Brake fluid (Especially the fluid) I had serious fade...HP+'s demolished my ebay rotors (fronts only) what garbage pads they were simply coming apart but could have been an issue with the cheap rotors as the surface was smooth as a babies ass last night and pretty much destroyed from the pad chunks.
Siegel Racing Driver Instruction Clinic at Talladega Gran Prix (STi)
Please Hey Guys! Just wanted to give "Mad Props" to Scott Siegel for a great event/class at TGPR last thursday.

He went to great lengths to prepare materials and impart his experience and wisdom on us that he gained from this track. He provided track specific instructional materials and "Verbal" sessions to assist us in getting around TGPR with grace, and controlled speed.

We had two Evos, Porsche Cayenne (The full-tilt-boogie-450hp-monster), Porsche 911 TT AWD, and of couse me with the STi. We were blessed with beautiful weather for most of the day, with only sprinkles here and there form isolated passing clouds.

Out on track in-between classroom sessions, 3 cars on track at a time. We all started off slow, and gradually built up speeds as we became familiar with the track and the line. Of course, with me trying to apply autocross habits like "Throw it in hard, and THEN try to control it" produced some not-so-nice results like munching tires quite a bit.

After scott rode with me, and got me to slow down my "Approaches" and curb my violent ways(Turn abruptly, and hope it sticks), things got civilized but much faster. He remained calm, even when I'd stuff it in too hard to turns. He even remained calm when my foot slipped during heel-toe downshifts whilst threshold braking...we didn't go off, but it was close a couple of times.

All in all, two thumbs up from me. Definitely recommend the lad for TGPR. Next plan is to get him for Road Atlanta at some point. Hopefully before it gets "Shivery" outside.

Being my second trackday with Siegel Racing I have noticed a few things:

Only the few 'hard core' guys use all of the track time, everyone (male/female, young/old, Gran Turismo/Mario Bros) is tired by mid afternoon.

It is unbelievable how much the 'first-timers' improve through out the day. Getting newbies on a skid pad for 5-10 minutes is worth 1-2 seconds per lap, its crazy.

Everyone always leaves wanting better suspension and brakes and they completely forget about any power mod plans that they may have had.

Everyone always leaves with more 'techniques to learn' than 'parts to buy'.


BACK TO TOP
Siegel Racing Driver Instruction Clinic at Talladega Gran Prix (WRX)
Wow...that's about all I can say at the moment after attending Scott's school. Well, OK, I guess I can say more.

First off and most importanly, it was an unbelievable learning experience and I highly recommend it to you all. You will learn so much about yourself as a driver and the truly amazing capabilities of the WRX, in a fun environment with other car enthusiasts. You'll also gain new respect for race car drivers, at least I did...today, I'm simply exhausted. Now granted, I was a little tense yesterday with it being my first time on a track, but nonetheless, my body is sore and feels beat up. Racing is work on the car and your body!

Second off, Javid's car is insanely, insanely, insanely fast. If you can ever get a ride in it on a track where the driver can let it loose, DO IT! You will want to march right into SoG and demand that Scott build you one.

Third...it's addicting, I'm already preparing to do it again...one school will turn into another and then you're on to Track Days and soon you'll be a Track Day freak, blowing all your money on tires and suspension mods!

Seriously though guys, the knowledge you'll gain is priceless! And most of the concepts, especially the wet skid pad (be sure to do take the school when it's forecasted to rain!!!), can be applied to your every day driving.

In closing...don't hesitate, don't wait...just do it now! Thanks to Scott for a great day and also to Javid for recommending it!

Later all.

- Clay

P.S. - Mr. Siegel...Prodrive Stage II and some sway bars are definitely in order!!!
EVO 8 at Beaverun
And thanks to John at RoadRace for helping me with the suspension setup, it rocked.
I had never even been to a roadcourse before this, so the whole experience was quite new. We got 4 run sessions of a half hour each, and I was placed in the beginner field. About 85% of the cars were Integras. I had a cool instructor from R and D motorsports who drives a Integra R in the Honda challenge.
First Session: Just getting the hang off things, learning the lines, feeling the car out. Was a lot of fun, I was very cautious, as my car had 340whp and was setup to have oversteer. So, I wanted to move gradually up the ladder and make sure I wasn't trailbraking.
Second Session: I was more aggressive, still calm, still learning. There were a lot of cars out, and they all seemed to get in packs, so I found myself off the gas a lot more. I let a lot of people pass me to get some room to actually get on WOT, I experimented slightly with getting controlled oversteer through the turn. I was getting more aggressive towards the end, starting to feel comfortable and getting more ambitious with applying power through the turns.
Then, the fun began. I met Scott Siegel of Siegel Racing, and he talked to me as soon as I got done with the second session. After my session the instructors went out in their cars, and Scott took the helm in my Evo to give me some pointers. Well, to put it lightly, this was the most amazing and possibly the most fun I've ever had in a car. Somehow we started perfectly in front of the pack of cars so that we had lots of open space. I had no idea my car was this fast, Scott can drive. We were passing all the other cars like clockwork.
Later,
JD
______________________
Team 5 Star Suzuki Racing


BACK TO TOP
STi at Road Atlanta
Well after taking the stage I class at little Tally, I dragged Scott out for a 1 on 1 day at RA during a Panoz Track day. Again, Siegelís knowledge of the track and instruction was invaluable. I had no track experience so I raced in group C which included over 20 cars with every thing from a mini Cooper to a full X50 GT2 Porsche (AWD TT). For group C, the Panoz instructors hop in Audi A4s 3.0 to lead groups of cars. We ran 4 - 30 minute hot sessions. The first 2 sessions were pretty slow as cars are slowly shuffled between groups to match cars and drivers into similar lap time categories. Instructor groups can pass other groups but no car on car passing is allowed. By the end of the 2nd session I began to get frustrated with the slower drivers and began to really appreciate our day at tally where we could run pretty much wide open all day long. At the end of the day though, I was kind of glad I had two full sessions to learn the lines.
During Session 3 our 'group' consisted of my STi, a '97 Porsche C4S (the German STi) and a C4 Corvette. I started at the back of the pack and every lap the instructor would signal the lead car to 'cycle to the back of the group'. Once I was following the instructor, the fun began. He ran all out for 6-8 laps with out him cycling me back. I pulled on the instructor (who was THROWING that Audi around the track) on nearly every trackout. It took a number of laps before I was setting up good for 10b. Although, I knew the line for 12 from the first 2 sessions, turn in was a little bit more complicated at full speed. Every where else on the track, the STi with a novice driver was no match for the A4 with a Pro at the wheel. We generally coasted down the back and front straits to let the C4 and C4S catch up. During the second time we actually took the front strait at full speed I had come out of 12 really nice and I wound out 5th gear; however, I temporarily forgot what to do. Oh yeah, use 6th. Both Scott and I got a kick out of that little brain fart; but in my defense, I had been coasting behind slower cars all day and never even got close to using 6th.
During the forth session we ran with a stage3 WRX with JICs and Azenis and a Built single turbo RX7. I had Scott take the first few laps to help show me how its really done. While showing me how it was done, he showed the RX7 how it was done, then we found out that the blank plates on the back of the audis were held on by Phillips head skews, and to complete the Siegel experience, our group passed a group of 5 that included the X50 GT2, a new GT3, and a couple vettes. Granted, the porches were not pushing that hard, but it was still one of those priceless mastercard moments. Rich bastard could have bought like 8 STi's for the price of that X50.
Scott pulled in and we switched. We waited for our group only to have the pit coordinator send us out just as the group behind ours was breaking for turn 1. After turning out of 7 we went ahead and passed the cars in the group (including yet another slow vette) and pulled in behind their instructor who waved us by half way down the back straight. So I ended up with 1.5 laps of open track as we closed in on our original group.
Once again, great job Scott. I learned a tremendous amount about the track, lines, what I should be doing and how the STi does what it does.
Anyone with no or limited track experience that is considering RA should definitely take the Stage I at tally first. You will have a lot more fun and run much quicker at RA after learning the basics at Tally.
Overall the track was very challenging and very exciting to drive. Only down side was that I only got 1.5 complete laps of uninhibited track time. Where as at Tally with two groups of 3 cars we had more than 3 hours per group. Had the students skipped the multiple, mid-afternoon "this is what I want to do to my car next" conversations, we could have pushed 4 hours of track time per group.

- Javid


BACK TO TOP

Latest News

---
Wanna Go Faster?
Please
click here to register
or call me to find out more about the next clinic
404-388-8751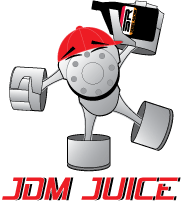 ---
One Lap of America News

Scott Siegel & Matthew Ball
Take 2nd place in Class and 9th Overall!
> Click here to see the 2007 OLOA Photo Album.
---
Scott & Ashley Siegel
Mission Trip to Haiti


Click here to learn more or to make a donation to this cause.
---
Race Clinic News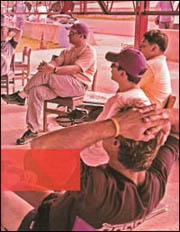 Subie Sport Magazine highlights Siegel Racing Driver Education Clinic! Click the image to view the article.
---
Past Events
WRXatlanta.com Holds a Commemorative 555 Member Party Hosted by Scott Siegel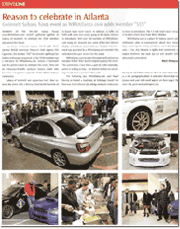 Subie Sport Magazine highlights the party!