2007 One Lap of America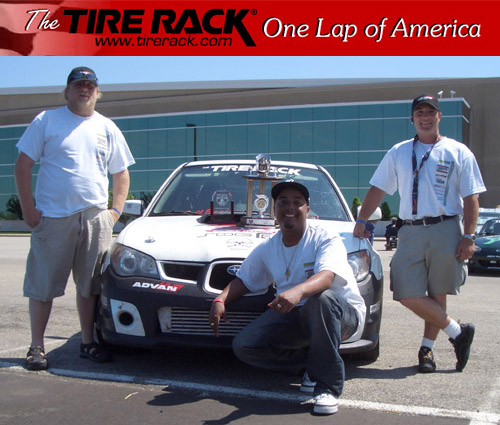 Subaru of Gwinnett, Scott Siegel and Matt Ball
FINAL RESULTS: 2nd in class and 9th overall
Click here to view the 2007 Siegel Racing One Lap Photo Album
If you would like to review our sponsorship proposal, please click here.
For those not familiar with the event, the "Tire Rack One Lap of America, Presented by Car and Driver Magazine" is a highly publicized event. In addition to multiple articles in Car and Driver magazine there is quite a bit of TV and web coverage.
Known as a grueling event, the 2006 One Lap had 17 timed events at 10 different venues, which required driving through 18 different states, in 8 long days.
For those who would like to join us at the track, you are more than welcome too, we will be doing a lot of testing over the next couple of months.
Previous Schedule:
November 2006
10-11 Carolina Motorsports Park Turn one motorsports event
18-19 Roebling Road Chin Motorsports
---
December 2006
1-2 Road Atlanta Panoz School
9-10 Virginia International Raceway (VIR) Chin Motorsports
February 2007
10-11 Nasa Event
Results: Nasa Winter Meltdown
- Saturday Time Trial
1st Place
in TTS
- Sunday Time Trial
1st Place
in TTS
- TTS
track record
: 1.40.08
---
September 2007
10-16 Mid Ohio Nasa Nationals
October 2007
20-21 Rockingham Nasa

BACK TO TOP